产品名称:[GTUC009] Personalised Metal Credit Card USB Drive
Item No.:GTUC009
Material:Aluminum
MOQ:100PCS
Weight:15g
Size:75*47*5mm
Color:Silver
Imprint Area:All
Imprint Options:Color Printing, Silk Printing, Laser Engraving
Preload Data Service:Yes

Email or Call us to Get an Immediate Quotation!
Please advice(Item No., Quantity, Capacity, Logo,
Accessories, Packaging Box and other requirement.)

Introduction:
All of our custom USB card styles are very popular, and this metal style is no exception, however where the alternative metal alloy style exposes it's gold fingers, this style uses a retractable USB drive that slides into the body of the card on a sheet metal rail.
This unique style of printed USB flash drive is a bit thicker, and is not likely to fit easily into a conventional wallet like other styles, however in this case, you'd surely prefer it be on your recipient's desk where it can be seen regularly as it conveys an image of class and highly quality that make for great conversation about your brand.
This branded USB credit card style is extremely durable and built to last, and is only available in brushed aluminum; however both sides are fully printable with the exception of the USB extender.
All of our custom USB flash drives include a lifetime warranty, guaranteed to be free of manufacturers defects for its usable life.
Specification:
1) Memory sizes available: 256/512MB; 1/2/4/8/16/32/64GB
2) Interface USB 2.0
3) High speed, at least 8 years of data retention
4) 1 year warranty
5) Plug-and-play; no external power supply required, USB bus-powered
6) All drives are made with high quality Intel/Samsung/Toshiba/Hynix/Micron memory
7) Reading speed(USB2.0): 15Mbps
8) Writing speed(USB2.0): 10Mbps (computer configuration dependent)
9) Supports multi-partition and password access
10) Supports BIOS booting as USB-ZIP or USB-HDD
11) OEM: Each USB drive can be customized with your company's logo.
12) Operating Current:<104ma
13) Suspend Current:<86ma
14) Operating Temperature: -10 ~ 55oc
15) Storage Temperature: -20 ~ 55oc
16) Operating Relative Humidity: 20% ~ 90%
17) Storage Relative Humidity: 20% ~ 93%
18) Opeating System: Windows® 7, Windows Vista®, Windows XP, Windows 2000 (SP4), Mac OS X v.10.5.x+, Linux v.2.6.x+,etc
Storage Chart: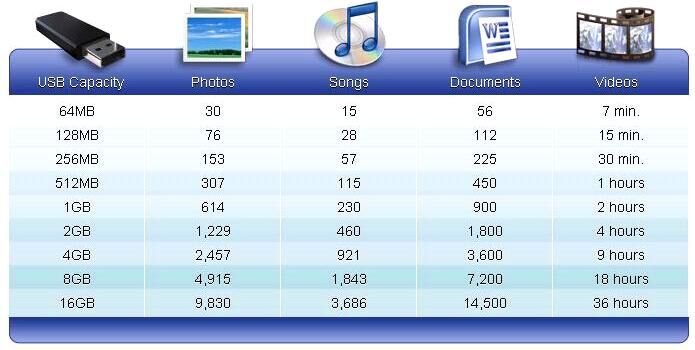 Accessories: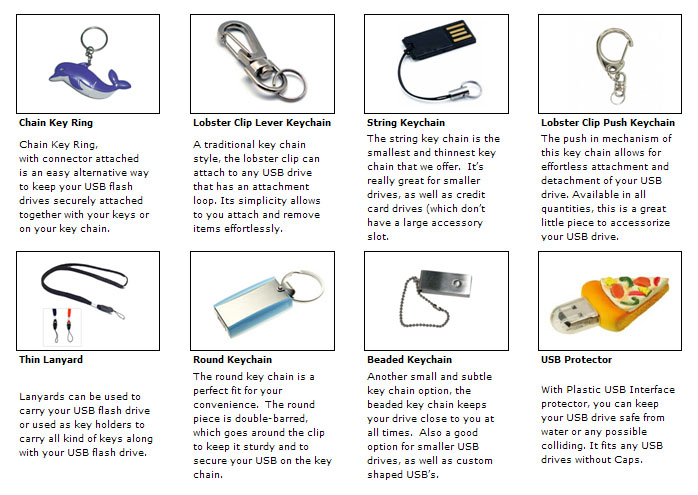 Packaging Box: