产品名称:[GTUC0011] Card-tab Branded Flash Drives
Item No.:GTUC011
Material:Plastic
MOQ:100PCS
Weight:15g
Size:85*54*4mm
Color:White
Imprint Area:All
Imprint Options:Color Printing, Silk Printing
Preload Data Service:yes

Email or Call us to Get an Immediate Quotation!
Please advice(Item No., Quantity, Capacity, Logo,
Accessories, Packaging Box and other requirement.)

Introduction:
The hinged style of custom USB credit card, is valued for certain types of applications, where durability it a top concern, as this style is a bit thicker and more durable.
These printed USB flash drives are different, in that while you can print on almost the entire surface of each side, the gold-fingers are exposed on one side.
This branded USB credit card style is durable, and like all but one style of promotional USB credit cards, its a bit thicker, so a conventional wallet slot would need to be stretched in order to make it fit for convenience inside a wallet.
All of our custom USB flash drives include a lifetime warranty, guaranteed to be free of manufacturers defects for its usable life.
Specification:
1) Memory sizes available: 256/512MB; 1/2/4/8/16/32/64GB
2) Interface USB 2.0
3) High speed, at least 8 years of data retention
4) 1 year warranty
5) Plug-and-play; no external power supply required, USB bus-powered
6) All drives are made with high quality Intel/Samsung/Toshiba/Hynix/Micron memory
7) Reading speed(USB2.0): 15Mbps
8) Writing speed(USB2.0): 10Mbps (computer configuration dependent)
9) Supports multi-partition and password access
10) Supports BIOS booting as USB-ZIP or USB-HDD
11) OEM: Each USB drive can be customized with your company's logo.
12) Operating Current:<104ma
13) Suspend Current:<86ma
14) Operating Temperature: -10 ~ 55oc
15) Storage Temperature: -20 ~ 55oc
16) Operating Relative Humidity: 20% ~ 90%
17) Storage Relative Humidity: 20% ~ 93%
18) Opeating System: Windows® 7, Windows Vista®, Windows XP, Windows 2000 (SP4), Mac OS X v.10.5.x+, Linux v.2.6.x+,etc
Storage Chart: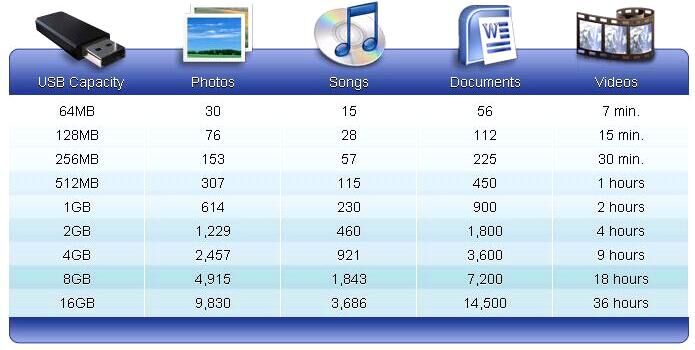 Accessories: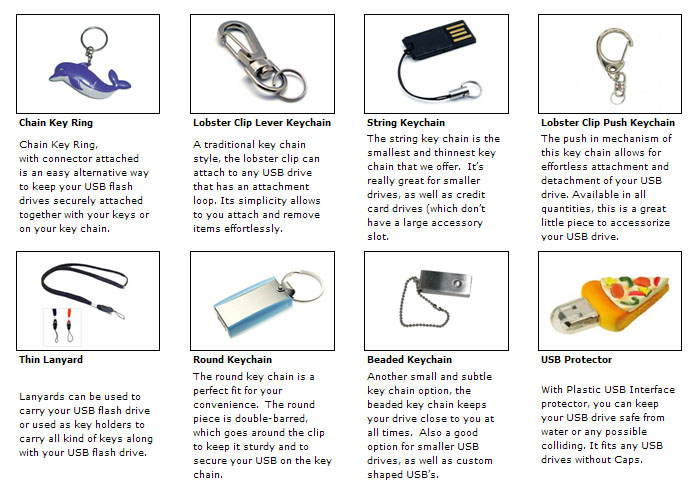 Packaging Box: